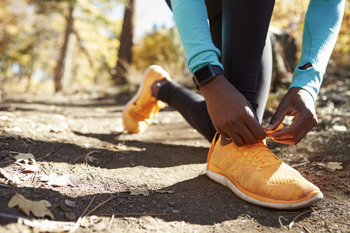 It's not about the looks or the status, it's about the fit. When in doubt, experts recommend that when shopping for running shoes to put fit over fashion, brand, or price. Shoes that are too tight can cause blisters, while shoes that are too wide can hurt your toes. Shoes that fit poorly can cause tendonitis, pinched nerves, heel pain, and stress fractures. Signs that your shoes don't fit properly include heel slippage, numbness on the top of the feet, and bruising on the toes. The best way to prevent these from occurring is to measure your feet while also wearing the socks you will use as you run. Check your foot measurements periodically, as foot size can change if you gain or lose weight. A rule of thumb is to have at least a half-inch of room between your toes and the end of the shoe. Running shoes usually run about half a size larger than street shoes, to allow for the feet to expand as you run. Try on several types of shoes before making a decision. If you need guidance on the best running shoe for you, please consult a podiatrist.
You should always make sure your running shoes fit properly in order to avoid injury. For more information, contact Theresa Brown, DPM of Essie M.B. Smith Foot Clinic. Our doctorcan provide the care you need to keep you pain-free and on your feet.
Choosing the Right Running Shoe for Your Foot Type
Improper shoe sizing can cause a myriad of problems for your feet. Shoes that don't fit you properly can lead to muscular imbalances in your body, which can result in foot, knee, and hip injuries.
Tips for Finding the Right Running Shoe
Make sure you have a thumb's width of wiggle room between the end of your longest toe and the front of the shoe.
There should be little to no slipping at the heel
Don't assume your size in one shoe brand will be your size in another
Do not lace up your shoes too tightly
Walk around in the store with your new shoes before you buy them
If you have any questions please feel free to contact our our offices located in Montgomery, AL. We offer the newest diagnostic and treatment technologies for all your podiatric needs.